WBEF Board Members
Managed by a community-based all volunteer board of directors, the foundation works closely with the school district's administration to identify areas of need and opportunities where the foundation can make a positive impact.
Officers
Chairperson: Kevin Goldman
Vice-Chairperson: Kimberly Wolenberg
Secretary: Kathy Sheiko
Treasurer: William Mull
Ex Officio
Cristina Elsen
Dr. Gerald Hill
William Mull
Directors
Holly Bailey
Sheryl Bienstock
Aaron Fogarasi
Kellon Hammond
Alex Ho
Neena Sandhu
Matt Sikora
Erin Smith
Joey Spano
Sara Ward
Elizabeth Zubrzycki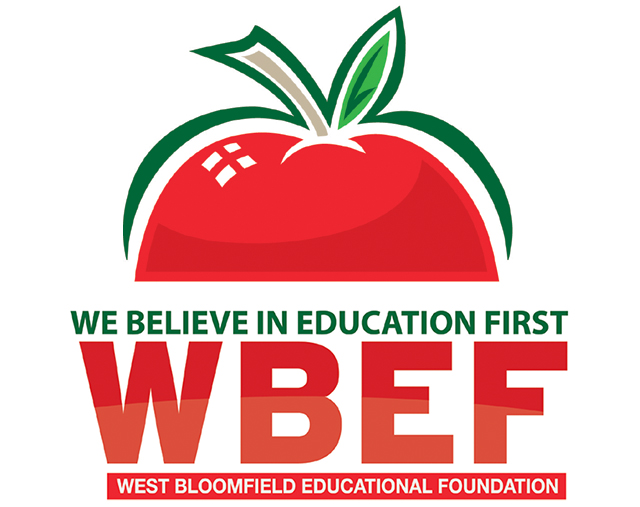 Sheryl Bienstock
Sheryl Bienstock has been a WBEF board member since 2011. Sheryl is a past chairperson of the WBEF Board of Directors and also served as secretary. She has been very involved in the WBEF fundraising efforts. In addition, she has served on the Orchard Lake Middle School PTO Board and Sheiko Elementary PTO and currently serves on the district's Parent Communication Network.
Sheryl holds a Bachelor of Science degree in Elementary Education from Eastern Michigan University.
She and her husband, Mike have lived in West Bloomfield since 1997 and currently have two daughters in the West Bloomfield School District.
She is honored to be a part of this organization that provides academic and social opportunities for over 5500 students and staff. She looks forward to helping to open more doors of opportunity to students, preschool through twelfth grade.
Cristina Elsen
Cristina Elsen was elected to the West Bloomfield Board of Education in 2014 and is currently serving a six year term. She is the board's representative to the West Bloomfield Educational Foundation.
Cristina is an Office Manager and medical biller for a local company and has been an active community volunteer. She has been a PTO president, a co-chair for the Keego Harbor Easter Egg Hunt and the Roosevelt Elementary Ski/Board Club. She also volunteers her time with Blessings in a Backpack and the Keego Harbor Optimist Club.
Cristina and husband Adam have four children in the West Bloomfield School District and reside in Keego Harbor.
Aaron Fogarasi
Aaron Fogarasi was born and raised in Oak Park, Michigan owns and manages Dry-Mark,  a company specializing in emergency water damage restoration and mold remediation.
Aaron holds a certificate as Master Water Restorer from the Institute of Inspection, Cleaning, and Restoration Certification, as well as a certificate from the National Association of Mold Professional as a Certified Mold Inspector.
Aaron has been married to Suzanne since 1989. They have two daughters, Alexandra who graduated in 2012 from West Bloomfield High School, and their youngest daughter, Joanne who currently attends WBHS.
Aaron and Suzanne began to get involved with the WBHS Marching Band as early as 2009 and have been volunteering for various groups and multiple causes throughout the West Bloomfield School District  ever since.
Aaron is in his second year as the Chairperson of the WBEF.  He is excited to work with a very dedicated and professional group of amazing volunteers.
Kevin Goldman
Kevin Goldman is the owner of Kaye Financial, a mortgage company located in West Bloomfield.  Kevin is a graduate of Michigan State University. After earning his C.P.A., he worked as the Controller of an Automotive Supply business for 14 years.
He has been a member of the West Bloomfield Educational Foundation Board of directors since 2010 and currently serves as its vice-chairman.   Kevin is also President of the Defeat The Label, an international anti-bullying non-profit. He resides in West Bloomfield with his wife, Amy and his sons, Max and Zack.
Max is a graduate of West Bloomfield High School and Zack is currently a junior at WBHS.
Kellon Hammond
Kellon Hammond is a Revenue Cycle Supervisor for Michigan Healthcare Professionals. She has a daughter, Lauren who is a 4th grade student at Sheiko Elementary.
Kellon is an active volunteer for the Sheiko Elementary staff and PTO.
Kellon holds a Bachelor of Science degree in Information Systems from the University of Phoenix, and will begin the Accelerated M.B.A program at Wayne State University in 2016.
Kellon enjoys working with the current WBEF Board members, the WBSD, and the community to make sure our children can experience measurable outcomes while getting the education they deserve.
Alex Ho
Alex is the local business owner of Sylvan Learning Center and Midas Auto Service and Tires in West Bloomfield.
As a native of Oakland County, Alex and his family have been strong supporters of the West Bloomfield School District and Walled Lake Consolidated Schools.
A few of their past contributions have included free after-school tutoring at Orchard Lake Middle School, complimentary STEM sessions at Sheiko Elementary, as well as numerous financial contributions to PTOs, WBEF, Walled Lake Foundation for Excellence, and student-led organizations.
Alex holds a Bachelors of Science Degree in Finance and International Business from the New York University Stern School of Business. His previous career includes 6 years of investment banking in New York and Hong Kong.
His interests include real estate investing, playing tennis, and lamenting over Detroit sports teams.
William Mull
William Mull serves as the Treasurer of the WBEF, ensuring that accounting records are complete, accurate, and in full compliance with IRS regulations for 501(c)(3) tax exempt organizations.
Mr. Mull also serves as the Assistant Superintendent for Business and Operations for the West Bloomfield School District, administering daily non-instructional operations for the school district.  Mr. Mull holds a Bachelor's Degree in Accounting from Michigan State University, and a Master's Degree in Educational Administration from the University of Michigan.
Mr. Mull is proud to serve the WBEF because of the outstanding support they provide to teachers and students in West Bloomfield.  
Kathy Sheiko
Kathy Sheiko retired in 2011 from the WBSD after serving as principal of Green Elementary (now Sheiko Elementary) for over 20 years. She has been on the WBEF board since 2013 and currently serves as its secretary.
Kathy introduced the Blessings in a Backpack program to the West Bloomfield School District several years ago. Blessings in a Backpack provides food on the weekends for elementary school-aged children who otherwise may go hungry.
Kathy chairs the highly successful "Fabulous Casino Night" which is the WBEF's annual main fundraiser. She is also involved in numerous other school district and community events.
 Erin Smith
Erin Smith has been a resident of West Bloomfield for eleven years. She and her husband, Matt have three children, Mattie in 8th grade at Orchard Lake Middle School, Chase, a 4th grader at Sheiko Elementary and Piper, a Doherty Elementary first grader.
Erin is a stay-at-home mom who loves volunteering in her children's classrooms. She has been an active member of the PTO serving as Doherty PTO Secretary from 2012-2014 and then as Vice-President at Doherty from 2014-2015.
Erin has volunteered for many school events and served on numerous committees throughout the years and is pleased to now be a part of the WBEF Board of Directors.
Joey M. Spano
Joey M. Spano is the Director of Community Education for the West Bloomfield School District. She is responsible for the planning, implementation and oversight of a variety of educational and enrichment programs for West Bloomfield students Pre K–12th grade including early childhood education, before and after school child care, after school and Saturday enrichment, aquatics, intramurals, summer camps, academic summer school and academic support programs.
She also oversees the district's adult education program which offers classes for the foreign-born through the English as a Second Language (ESL) program as well as career certification classes.
In addition, she is responsible for the marketing, rental and scheduling of all school district facilities.
Ms. Spano is also the district liaison to the West Bloomfield Educational Foundation and has served on its board of directors since 2008. Ms. Spano greatly enjoys working with the board in providing financial support to many outstanding educational programs and district-wide initiatives.
Ms. Spano holds a Bachelor of Science degree in Education and a Master's degree in Public Relations from Michigan State University. She has been with the WBSD since 1995.
Sara Ward
Sara Ward has been a WBEF board member since 2011. In addition, she has served on the Gretchko PTO Board and has chaired many events for both Gretchko and Scotch Elementary.
Sara holds a Bachelor of Science degree in Elementary Education from Western Michigan University. She is Vice President of RECON Management Systems as a consultant and coach to small businesses.
Sara is a West Bloomfield graduate having attended Doherty, Abbott and West Bloomfield High School. She and her husband, Rob have three children all attending West Bloomfield Schools. Sara enjoys being part of the WBEF – giving back to the schools, community and kids!
Kimberly Wolenberg
Kimberly Wolenberg is an attorney and director with Themis Bar Review. In her current position she helps law students prepare for the bar exam. Previously, Kim worked as an Account Manager and Research Specialist with Thomson Reuter.
In those positions she provided legal research training for law schools across the country and for large law firms in the Midwest.
Kim has been an active volunteer in the West Bloomfield School District where she currently serves as secretary of the Doherty PTO. Kim and her husband, Greg have two sons, one in Kindergarten and another attending preschool at Doherty Elementary.
Kim holds a Bachelor of Science degree from the University of Findlay and a Juris Doctor from the University of Toledo College of Law.
Kim enjoys working with the WBEF and is excited to support the children and schools in our district.
Elizabeth Zubrzycki
Elizabeth Zubrzycki was appointed to the board in 2011 and is serving her third term.
West Bloomfield Educational Foundation